Pastor Ray, Merly & Rebekah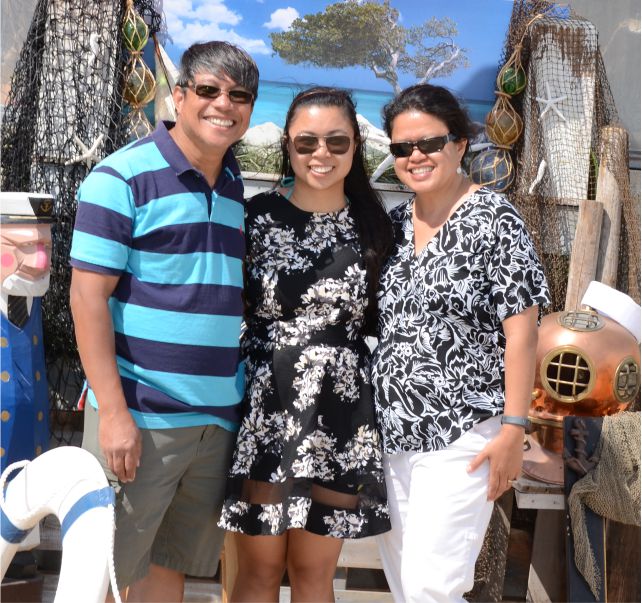 The following material is unedited and unfinished but feel free to read ...
God's Call
Looking back, Raymond sensed God's call to ministry when he was a young boy. He observed himself teaching people that they are created by God and that they have to love each other. Since then he felt he wanted to be a priest. One Holiday (All Saints Day), Raymond met a girl who told him that he needs to be born again. Asking what that was, the girl said she is unable to explain it well. Raymond, whose heart was stirred to find out what it means to be born again, barrowed a bicycle one day and drove around to find a church that would explain how to be born again. Being a weekday, all churches were closed. Going back to school the following day, he saw his friend Giovanni at their school (Mapua Institute of Technology) and Giovanni invited him to attend his new Church. That Sunday, Raymond met their pastor, Rev. Paul Mortiz, and attended the youth Bible study in the afternoon. The following Sunday, February 27, 1983, Raymond gave his life to the Lord Jesus Christ as his personal Lord and Savior. During the next 3 months he met Pastor Leonardo Diawa and helped him start a new church in their neighborhood. They worshipped in Raymond's house until a member offered to build a Worship Place in his backyard. A year after Raymond got saved, he followed the Lord Jesus in the waters of baptism by the beach of the province of Batangas and transferred his schooling to the Conservative Baptist Bible College where he graduated in 1987 with a degree of Bachelor in Church Ministry.
God's Training Ground
While helping Pastor Leonardo Diawa in planting a Church, Pastor Ray learned that hardship, criticism, persecution is part of ministry and that we should never loose faith in God.
While at School, he learned the value of education, books, teachers, friends, and the disciplines in studying and handing God's word. He also developed a courageous spirit to confront people of their sin and their need to change.
During his time in school he was a student and Assistant Pastor with Pastor Jemuel Castillo at Greenheights Christian Fellowship. Through Pastor Jemuel, Pastor Ray learned how to love the God's workers.
Upon graduation 1987, Pastor Ray moved to Cabanatuan Conservative Baptist Church in Cabanatuan City, to become the associate of Pastor Wilson Baldemor and Pastor Orlie Sonza. after 3 months of being an associate, Pastor Wilson resigned and Pastor Ray became it's Senior pastor. In Cabanatuan, the Lord taught Pastor Ray humility and waiting upon God. He experienced firsthand how it feels to fall and how to get up in Ministry. Some of the people that God used also while he was in Cabantuan were Rev. Don and Ruth Good. Pastor Ray learned from them that vacation and spending quality time with your family is a way of helping your kids love the ministry. Pastor Danny and Connie Carigma who works with the navigators was very instrumental for Pastor Ray to learn the value and practice of intercession and discipleship.
As an Associate Pastor at Fil-Am Christian Fellowship in Long Beach, California, Pastor Ray learned how to stretch his faith and abilities. He also learned how to support and stand by his family. It is also during this time that he was able to apply what he learned from past experiences and formulate his own Philosophy of ministry. Thanks to their senior Pastor during that time, Dr. Oscar Baldemor, whom God used to mold Pastor Ray.
Since the day he got saved, Pastor Ray have been influenced by people from everywhere, church members (former and present Church), family members, relatives, and friends (old and new). All of them have been God's instruments.
God's Chosen Partner
Pastor Ray & Merly both grew up in Parang , Marikina, Philippines. They were classmates during their first year in High school. But the story continued when they met again in a baptismal Picnic at Bolsa Chica Beach, California in 1990. They got married 2 years later and after 2 more years, Rebekah "Bea" (pronounced Beya) was born. Rebekah recently graduated from Stanford University with a degree of Management Science and Engineering. She now working in New York. To God be the glory!
God's call for a New Ministry
After much prayer . . .